"Though Hilbert grapples with weighty and difficult subjects, her tone is refreshingly anti-maudlin. Precise details of Southern California-- including movies--so infuse the spirit of these poems that in every one is a spark of light and even joy."
-Denise Duhamel
"There is nothing stale and conventional here, just the presence, so rare in poetry, of Beauty, Suffering, and Intelligence."
-Edward Field
"At every turn, this poet surprises with her beguiling wit, and then the sudden plunge into the depths--"
-Janet Sternburg
"Not since Spoon River Anthology have I seen such a cluster of vivid portraits and scenes from American life. Deep Red could be the first installment of a new classic."
-Edward Field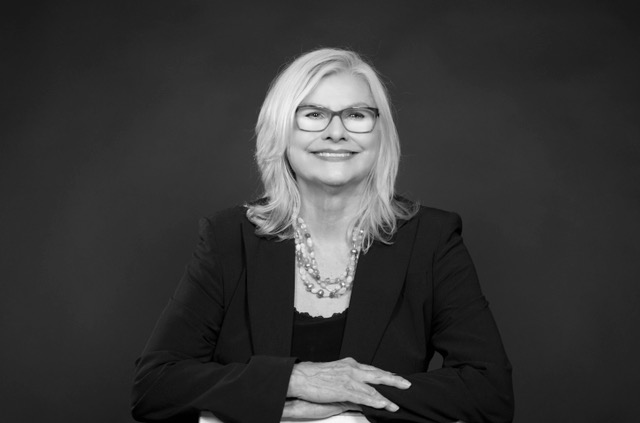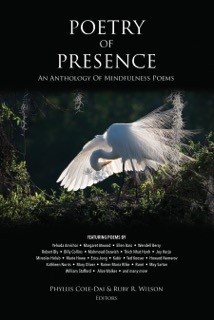 With Sonia Greenfield at AWP 2017, Washington DC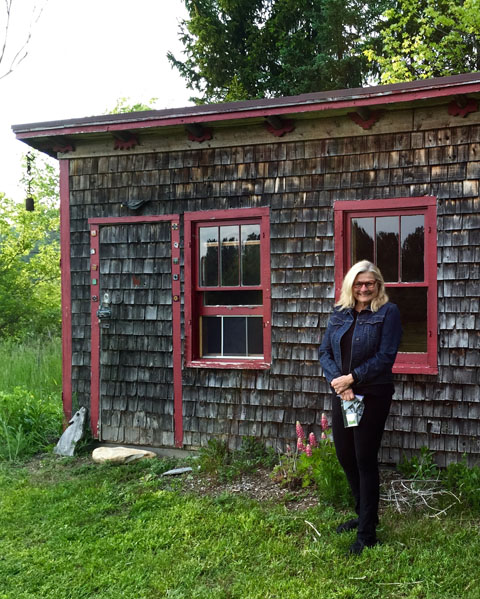 Donna in front of "The Coop" at Write On Door County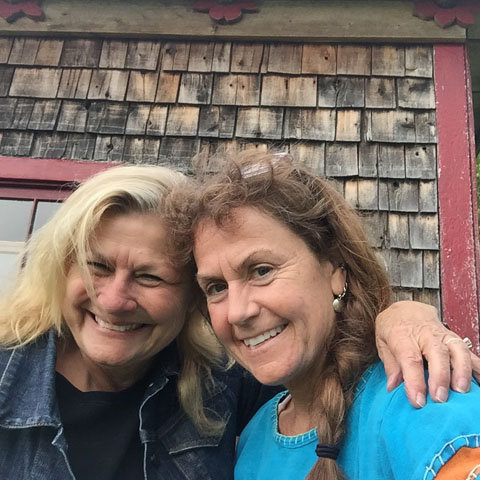 Donna with poet/book artist Diane LeBlanc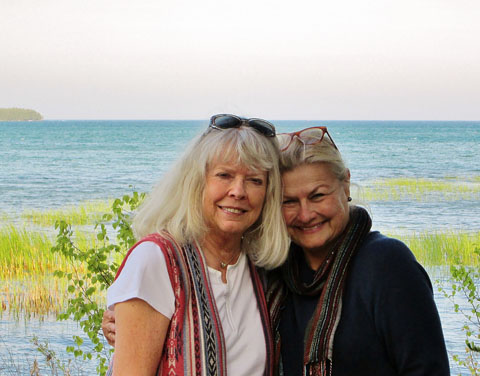 Donna with poet/artist Sharon Auberle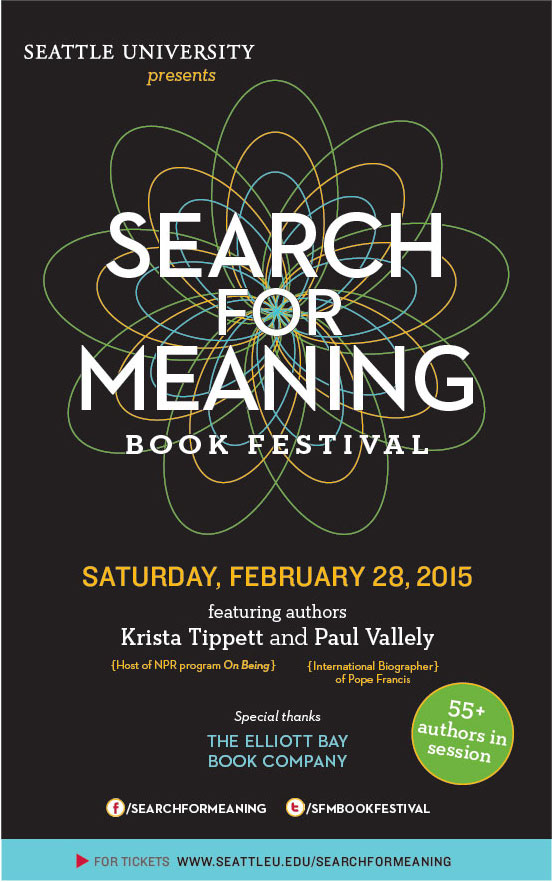 Donna Hilbert was born in the Red River Valley of Oklahoma near the Texas border, but has spent most of her life in Southern California. She is a graduate of California State University, Long Beach. Her latest book is The Congress of Luminous Bodies, Aortic Books, 2013. The Green Season, World Parade Books, is now available in a new, expanded second edition. Other books include Traveler in Paradise: New and Selected Poems, PEARL Editions, 2004; Transforming Matter, PEARL 2000; Feathers and Dust, Deep Red and Mansions, all from Event Horizon Press. In 1994 she won the Staple First Edition writing award resulting in the publication in England of the short story collection, Women who Make Money and the Men Who Love Them. Her Greatest Hits chapbook, which includes her most anthologized poems from 1989-2000, is available from Pudding House. She has often traveled to England to give readings and workshops and has served as Vice President for Programs of PEN Center USA West. Her work is the subject of the short film "Grief Becomes Me," by director Christine Fugate, which was shown as a work-in-progress at the Kentucky Women Writer's Conference in March of 2005, and is included in the now completed Grief Becomes Me: A Love Story, the documentary about her life and work. She is listed in the Greenwood Encyclopedia of American Poetry. Hilbert's work is widely anthologized, most recently in Poetry of Presence, Grayson Books, 2017.
. . . . . . . . . .
. . . . . . . . . .
April 17, 2014 - Distinguished Writers' Reading at Laguna College of Art and Design. (L to R) Gerald Locklin; LCAD Liberal Arts faculty member, Gwendolyn Oxenham; Charles Harper Webb; Donna Hilbert and Chair of Liberal Arts at LCAD, Grant Hier.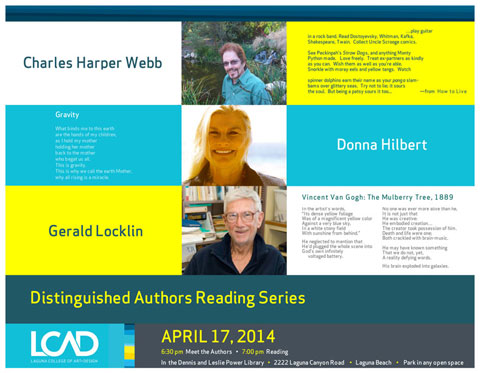 Distinguished Authors Reading Series at Laguna College of Art-Design
Donna Hilbert at Gatsby Books, the last Hump Reading ever!
. . . . . . . . . .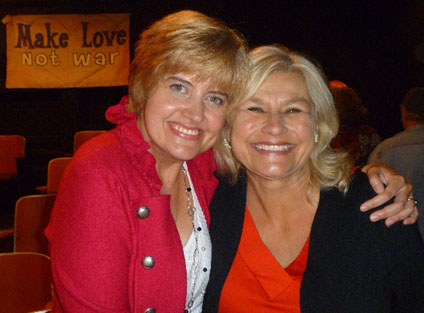 With Jo Scott Coe reading for Code Pink at Beyond Baroque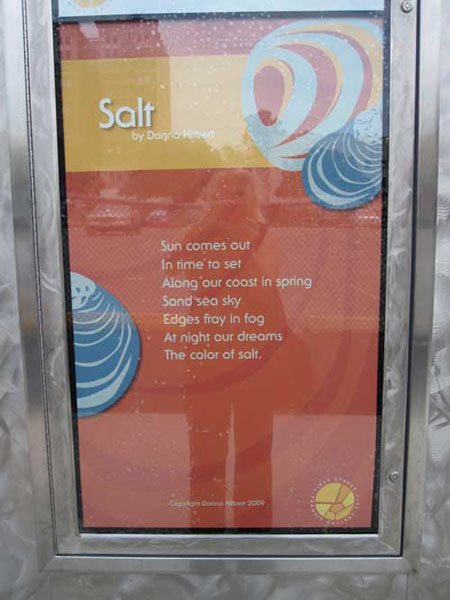 Poem at the First Street Transit Gallery in Long Beach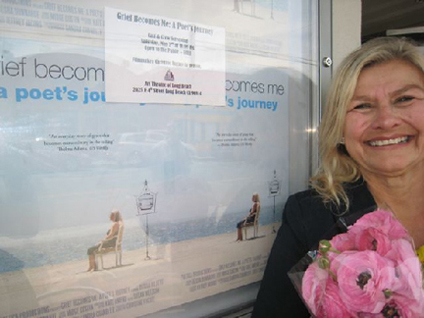 Click here for more info on Grief Becomes Me
. . . . . . . . . .

To contact Donna, send email to donnahilbert@gmail.com